Google Home Mini
INR
Google Home Mini
In Stock
3999.0
In Stock
Ships in 1 - 1 Days
Description
Google Home Mini - Buy Google Home Mini In Bangalore

Like Alfred to Batman and Jarvis to Ironman, the Google Mini is the next best thing to find information, view your schedule and control other devices hands-free. This compact and elegantly designed device uses just your voice to make your everyday tasks easier. To get it started, all you have to do is say, "Ok Google." How cool is that?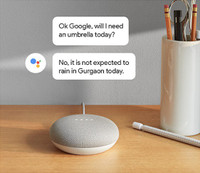 Get Answers from Google
Get all the information you need easily by just asking the Google Home Mini for it. Apart from getting to know the status of the weather to news and sports, it also lets you use Google Search, Maps and more hands-free.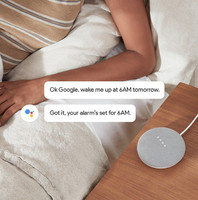 Manage Your Day from Breakfast to Bed
You never have to keep a diary or a post-it note to keep track of your schedule, commute, and travel information. The Google Home Mini does it all for you. Simply ask it to wake you up at 6 AM and that's it. All you had to do was ask. It is also highly useful in other ways such as finding your misplaced Android phone by making it ring at full volume, and broadcasting messages to all the Google Home devices around the house.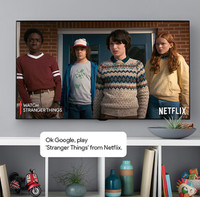 Play, Pause and Rewind - Hands-free
Using a remote control to switch between content is so old school, isn't it? Thanks to Chromecast compatibility, you can now stream movies and music right from the comfort of your couch using just your voice.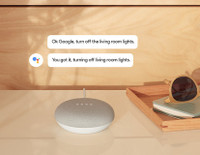 Control Your Smart Home with Just a Few Words
You must have seen features like controlling the lighting of your home with your voice only in spy movies. Well now, with the Google Home Mini and compatible lights and switches, you can control home automation systems like Philips Hue with ease.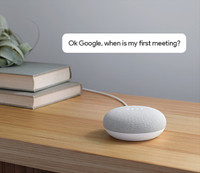 Your Voice. Your Info
Get information that is personalised just for you, thanks to this device's ability to distinguish your voice from others.

Shop For Google Home Mini NearBy - Buy Google Home Mini In Bangalore - Google Home Mini Store Near Me

Specifications
In The Box
Google Home Mini, Power Adapter and Cable, Quick Start Guide
General
Brand

Model Name

Model Number

Brand Color

Color

Power Requirement

OS Compatibility

Android 4.4 or Higher, iOS 9.1 or Higher

Touch Pad

Music Streaming

Output to Stereo System

Compatible Brands

Nest, SmartThings, Philips Hue, IFTTT

Customizable Appearance

Functions

Search Google
Get a Personalized Daily Briefing
Check Traffic
Add Items to Calendar
Make a Shopping List
Make a to Do List
Check Flight Status
Track a Package
Alarm

Network connectivity

Supported Audio Formats

HE-AAC, LC-AAC+, MP3, Vorbis, WAV (LPCM), FLAC
Additional Features
Built-in Support for Chromecast and Chromecast Audio, IEEE 802.11b/g/n/ac (2.4 GHz / 5 Ghz) Wi-Fi, Bluetooth v4.1 Support, 40 mm Speaker Driver, Far Field Voice Recognition Supports Hands free Use
Dimensions
Width

Height

Weight

Power Cable Length

Other Dimensions
Warranty
Warranty Summary

1 Year Manufacturing Warranty

Service Type

Covered in Warranty

Not Covered in Warranty
You may also be interested in
Look for Similar Items by Category